First Unitarian Choir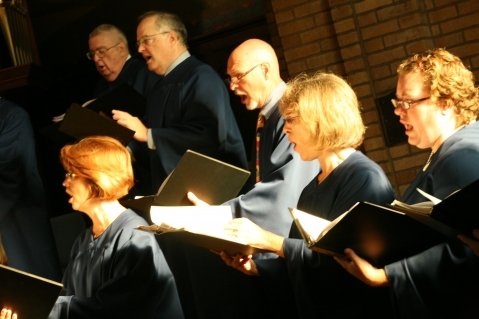 First Unitarian Choir
The First Unitarian Choir, is an all-volunteer SATB ensemble of 30 men and women of all ages. Our mission is to provide each singer an opportunity to grow musically and spiritually and to have fun doing it. Under the direction of Dr. Joel Knapp and accompanied by Emily Pearce, the choir serves the First Unitarian church community with a diversity of music to lift the spirits and enhance the worship experience. We also offer a children's choir.
Join Us!
We welcome new singers and invite you to try us out. If you choose to join, the commitment is modest: 
The choir rehearses 7:30 to 9 p.m. on Wednesdays from late August through early June.
We sing two or three services each month with one major choral work in December and May.
Choir members are invited to lead the congregation in traditional carols during our Christmas Eve candlelight services. 
We are a very sociable group. Our season begins with homecoming party and choir rehearsals frequently end with a glass of wine at a choir members nearby home. Many members have sung in the choir for 10, 15 or 20 plus years but always offer a warm welcome and a helping hand to new singers. Contact (email hidden; JavaScript is required)
to learn more.
Listen Now
Here's a sampling of choral works recently performed at First Unitarian Church under the direction of Joel Knapp:
Repertoire
Our growing repertoire embraces the full diversity of the human experience:
Contemporary choral arrangements, including those by local and national Unitarian-Universalist composers
Sacred choral classics from the Renaissance, Baroque, Classical and Romantic periods, including anthems, chorales, masses, motets, and opera choruses
Gospel favorites, both classic and contemporary arrangements
Folk music, including popular tunes and sacred hymns
World music from Africa, Asia and Latin America embracing a variety of religious and cultural traditions
Vocal jazz arrangements
In addition to enhancing congregational worship, the First Unitarian Choir performs special music services in December and May. These special services include outside musical guests, including string ensembles and guest soloists. See Special Music Opportunities for more on other special music services and other programs.