Rev. Gary James
Rev. Gary James has been the settled minister for two congregations, for five years in Ohio and for more than twenty years in the northern Chicago suburbs. He has experience with larger congregations than ours, and has helped both to grow. 
---
Religious Educator: Lynn Hunt
Lynn is a credentialed religious educator with many years of experience running the Religious Education program at First Church.If you have any questions about the RE program Lynn is the one to contact. Click here for more information about our Religious Education program.
---
Administrator/Webmaster: Yvette Clemons
Yvette handles many of the daily operations of the church including compiling newsletter articles, gathering announcements that will be read during services, and putting together the weekly order of service and yellow sheet announcements. She updates our website with the most current information and she can answer questions about many church functions including facility rentals, the church calendar, and official files and records .Basically, if you need to know something about the church, Yvette Clemons will have an answer or be able to point you to someone who can give you one. Yvette handles all event scheduling including weddings and facilities rental. Click here for more information about weddings and facilities rental.
---
Music Director: Joel Knapp
Joel Knapp is in charge of the music in the worship services. He selects and prepares music for the Adult Choir. He also lines up guest musicians for services that don't involve the choir.
---
RE Assistant: Rhonda Buergler
Ms. Rhonda is our Religious Education assistant and helps Lynn keep everything going smoothly on Sunday mornings.
---
Administrative Assistant/Nursery: Augustine Underwood
Ms. Augie has run the nursery at First Church for over twenty years. She is a much loved member of our church family.  Augie will be the first person you meet if you come in to the church office. Augie also handles visitor and new member information and manages the sign-up table.
---
Church Custodian: Elliott Smith
Elliott Smith joined our staff July 2014, contracted from Commercial Buidling Services (CBS). CBS is a young, local company that focuses on Green Cleaning.     (www.cbs-stl.com) Elliott takes great care to ensure that our building and property is ready to greet members, friends and visitors alike, and works 25 hours per week.
---
Church Organist: Earl Naylor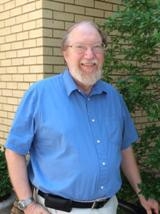 Earl Naylor received his Bachelor's and Master's degrees in Music from Drake University, where he was a graduate teaching assistant in the theory department. He has done further studies at the Eastman School of Music. A past dean of the St. Louis chapter of the American Guild of Organists, Earl was chair of the 1979 national convention of the Organ Historical Society. Earl has worked for several churches in the area, including Centenary United Methodist Church downtown and Emmanuel Episcopal Church in Webster Groves. He has given many organ recitals in the Midwest, and played a rectial at St. Thomas Episcopal Church in New York City. Earl's wife Susan is a home health nurse for Lutheran Senior Services and is a deacon in the Episcopal church, serving at the Church of the Good Shepherd in Town and Country. He has three grown children, all in the St. Louis area.
---