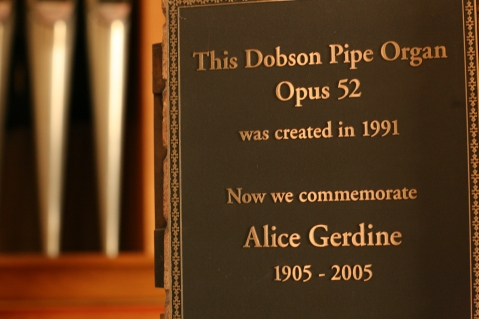 Dobson Pipe Organ, Opus 52
The Alice S. Gerdine Organ at First Unitarian Church of St. Louis was built by Lynn Dobson Pipe Organ Builders of Lake City, IA., and installed in summer 1991. It replaced a 74-year-old Kilgen. The organ was Dobson's 52nd new instrument and the company's first in Missouri. 
Designing the Organ
The Dobson Pipe Organ was custom designed to complement the First Unitarian Church sanctuary. 
Because of architectural requirements and the church's historic mural a focal point at the front of the sanctuary the situation of the new organ had to harmonize the disparate requirements of organ and space. The mural Hope, painted by Edmund H. Wuerpel in 1919, was originally commissioned by the church as a tribute to its members who served in World War I. The free-standing organ case, of white oak, functions to focus and project the sound all the more necessary because of its location. 
Laurie Ryan, AAGO, First Unitarian Music Director at that time, worked with Lynn Dobson to design the stoplist. The organ has 17 stops (20 ranks), mechanical key and mechanical stop action.  Its 1,110 pipes are made of an alloy of tin and lead, though some are made of zinc or of poplar.  The swell division is expressive.  The pedal division has both unison and octave couplers.  The key surfaces are of ebony and bone.
Organ Dedication, 1991
The organ was dedicated on Oct. 11, 1991, when the Rev. Earl K. Holt III was minister of the congregation. The dedicatory recitalist was Matthew Dirst, a native of Illinois, who was the 1990 winner of the AGO National Young Artist Competition in Organ Performance. The congregation held an inaugural concert series, which included recitals by Laurie Ryan, Barbara Raedeke, and William Albright.  Dennis Bergin presented a 10th-anniversary recital in November 2001.
In May 2006, First Unitarian dedicated the organ to Alice Gerdine in gratitude for her support of the organ installation. She was first among many donors whose passion for and commitment to music and First Unitarian brought the organ project to fruition.
Read more about Dobson Organs at http://www.dobsonorgan.com.
If you would like to hear samples please click on the name:
Fugue in G Major ('Jig'), attributed to J.S. Bach (BWV 577)
Andante Religioso, Sonata IV, by Felix Mendelssohn