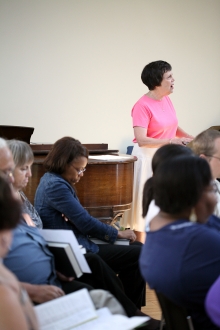 If you love music or you're an amateur musician, there's no shortage of opportunities for you to follow your music interests or even discover new ones.
Special Music Services
First Unitarian Church also sponsors diverse musical offerings from groups outside our church community, including special music Sundays, concerts, recitals and other events. Guest vocalists, instrumentalists and ensembles offer classics, popular music, jazz and blues and much more.
Check out a program that features the music from our Jazz Sunday service on Jan. 8, 2012!
Get Involved!
The opportunity to enjoy and participate in music extends far beyond regular Sunday worship [link to Worship] during the church year. You can go solo or join with others to make music at our many special events throughout the church year, including:
All-church dinners and celebrations
Fundraising variety shows
Summer lay-led services, late June early August
Children's chapel services
Hymn sings
Hanging of the Greens
These special events showcase a diversity of talent including folk musicians, jazz pianists, violinists, guitarists, ad-hoc vocal ensembles and much more, providing even more opportunity for all members to participate. (email hidden; JavaScript is required)
Music Committee
Music lovers in the church have formed a Music Committee [link to 29] to promote music at First Church and to support our professional music staff. New committee members, as well as feedback about our music program, are always welcome!
Have an idea? (email hidden; JavaScript is required)
For more information about any of our music activities, or to find out how you can participate, please contact (email hidden; JavaScript is required)