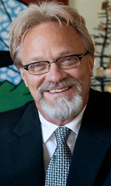 The Policy Board is pleased to announce that Rev. Gary James has joined First UU later as our transition/interim minister. While there will be other opportunities to learn more about him, here are some highlights: he has been the settled minister for two congregations, for five years in Ohio and for more than twenty years in the northern Chicago suburbs. He has experience with larger and smaller congregations than ours, and has helped both to grow.
He was our first Lewis Ministerial Intern!
He studied for several years at Washington University, so knows St. Louis (and our church) as a result of that time.
He has been living in Oregon with his wife Julie Martin. They are excited about moving to St. Louis for this work, as she has family in the area.
He is a very skilled preacher and also brings background in the work we will be doing to prepare for our next settled minister relationship. 
 We hope everyone will take advantage of the forthcoming opportunities to meet them and welcome them to our church home and our city!