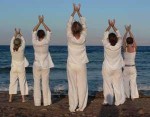 Qigong Offered at First UU
· Qigong combines mindful, gentle, physical postures and movements with meditation, breath-work, sounds (mantra) and  self-massage techniques to revitalize your Vital Life Force energies and to enhance physical, emotional,  mental, and  spiritual healing.
· Qigong techniques help to dissolve accumulated stress and fatigue, increase energy, and strengthen the immune system
· Accumulated daily practice of Qigong movements and meditation build up a  storehouse of Qi energy and also lead to enhanced concentration, improved mental focus, and greater intuitive functioning.  
Qigong classes take place every Tuesday in Hope Chapel at 2:00.