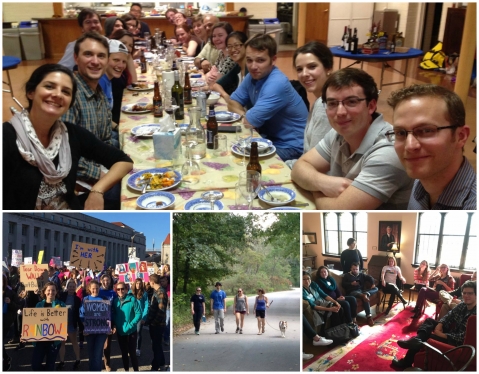 Hello!  We are the Young Adults Group at First Unitarian Church of St. Louis, a place for those in their 20s and 30s to connect, reflect, be of service, and have fun!  We host a lay-led vespers service at 7pm on the last Friday of each month, followed by games, snacks, and fellowship.  Some of us attend Sunday services, and some of us teach in the Religious Education program.  We gather after service in Fellowship Hall for coffee and donuts - please come find us and say hi!
We also organize a number of events and projects throughout the year, such as hikes, camping trips, lunch excursions, and an annual pool party.  In June we decorate the church's float for the St. Louis Pride Parade, and in November we host a "Friendsgiving" potluck.  We participate in a variety of service projects, such as baking pumpkin bread for elderly and sick members of the congregation, and buying holiday gifts for a family in need.
Check out our Facebook page to learn more about our upcoming events, and feel free to join our Google Groups email list called the First U Young Adult Group.  We can't wait to meet you!